Leadership with heart and mind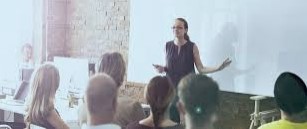 As a project manager, you are confronted with numerous challenges every day. Especially when leading your team, there are, in addition to all topic-related and technical issues, essential questions that keep coming up in the background:
❓How do I establish and maintain good contact with my team (even in difficult phases)?
❓How do I appear confident and at the same time sympathetic to safely navigate the team to the milestones?
❓Crisis intervention - How do I deal with difficult situations and (verbal) resistance?
❓Didactics - How do I convey exactly what the project is about at the project kick-off and motivate them to do their best?
We will clarify exactly these questions in a workshop and you will learn:
✅ Techniques and approaches for trusting and honest dealings in and with the team.
✅ A secure system to stabilize contact and communication and to get into the active design of the processes.
✅ The best rhetoric tools to always hit the right note - especially for us in difficult meetings and one-on-one conversations.
✅ A proven didactic system with which (almost) no questions remain unanswered and everyone in the team knows what he or she has to do.
Take your leadership skills to a new level and make life easier for your team and yourself in the coming year. You will achieve your goals more easily and quickly, solve problems and conflicts better and fundamentally improve the atmosphere and motivation in your team. Your team and your superiors will thank you for it.
I look forward to working with you!
Thomas Coucoulis

Further information


PDUs: You can purchase 8 PDUs for this event, which we will then claim for you.
Provider: PMI Germany Chapter (C421).
Location: home office, office, or where else you like to work creatively and with heart.
Costs

For PMI Germany Chapter members €249.00 excl. VAT (can be booked and paid directly when registering)

For PMI members €274.00 excl.VAT (please register with tanja.ehrenheim@pmi-gc.de!)

For NON-members €299.00 excl. VAT (can be booked and paid directly when registering)

Cancellations up to March 07, 2023 free of charge.

For questions about the event, please contact tanja.ehrenheim@pmi-gc.de.
Event Information
| | |
| --- | --- |
| Event Date | 17.03.2023 09:30 |
| Event End Date | 17.03.2023 17:30 |
| Capacity | 14 |
| Registered | 10 |
| Available Place | 4 |
| Cut off date | 16.03.2023 15:00 |
| Individual Price | 355,81€ |